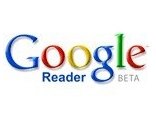 In the past, I have talked about the power of using a google reader to consume content from your favorite sites, and today I have a really cool trick for you to help you do that more efficiently.
When using my google reader to consume content, one problem that I run into sometimes is that there is just way too many posts to process at any given moment.
Can you relate?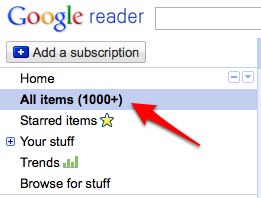 If you have this problem I have the solution for you.
Here is the simple trick…
When you login to your google reader click the "All Items" option on the top left most corner of the page.
Once you are there then use the "J" and "K" keys to move through your posts more efficiently instead of having to mess with your mouse.
Make sure you have "expanded view" selected in the top right corner of your reader
By following this process you can move through the content faster and only stop on content you really want to read or scan.
I just recently found out about this trick and wanted to share it with you!
I hope you find it useful!
If you like this post and want to make sure you don't miss any further content please subscribe via RSS or by E-mail.
——————————————————————————————————-
The Bottom Line: Using the "J" and "K" keys on your keyboard when going through your Google Reader is the best most efficient way to process many blog posts all at once.
——————————————————————————————————-