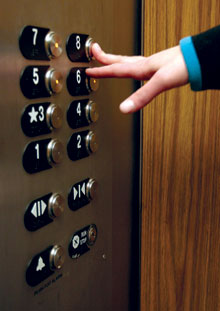 Have you ever been in a situation where you had the opportunity to share with someone with what you could do for them, but you only had 30 seconds to do so?
Welcome to the world of networking and more importantly entrepreneurship. Having a solid elevator pitch is essential if you want to easily generate leads and close more sales.
The truth is that is many entrepreneurs mess this up, but hopefully after reading this post you will not be challenged with that anymore.
To keep things simple…
An elevator pitch, also commonly known as an elevator speech, is the specific response that you reply with when someone asks you "What do you do?", or "What business are you in?"
When someone asks you for this specific piece of information, their goal is to get an idea about who you are, and what you can do for them, or anyone else in their network so they can send you referrals.
Coming up with a compelling elevator pitch is a process, but once you figure out what works best with you, and test it out on a few people…making tweaks along the way, your pitch will be at the point where you can literally generate business out of thin air when used in the right settings.
Figuring out the ideal elevator pitch for you and your business is a process…
Once you come up with one elevator pitch (the process is shown below), test it out on a few people at networking events, and see how individuals respond when you respond.
If you don't get any positive responses, go back and tweak the pitch a little so that it creates the response that you want in the other person (them wanting more information about working with you, or inquiring about setting up a meeting).
No matter what business you are in, it is essential that you have an effective elevator pitch to help you sell your product, service or idea.
Once you create the perfect elevator speech, use it on as many qualified people you can speak to. As you continually take the right action getting in front of people, in person or online, you will find a rhythm in using it over and over again as you push your business and career forward.
Below is the process I follow when creating an elevator speech for myself, or a client I am working with. (I am going to show you the process I went through for myself to get to my current elevator speech I am using).
Step 1
List every single benefit you offer clients or customers. (If you have a product, focus on what the main benefit the product delivers to the customer)
Exercise (This is what I did for myself)
-Help people increase the size of their e-mail list
-Help people drive more traffic through their site
-Help people write lead generation copy that converts between 40%-70%
-Help people write sales copy that generates 2.5%-5.6%
-Help people write autoresponders and e-mails that generate a 25%+ open rate
-Help people increase their sales without increasing their marketing budget
-Help people optimize their online and offline marketing programs to yield better results
-Help authors create entire book launch strategy that sell books, builds an e-mail list, and generates customers on autopilot
(As You can see I am able to help entrepreneurs accomplish many specific things, but the challenge with an elevator pitch is that you have to keep it short, succinct and compelling enough to make people want to ask you more questions after you say what you say)
Which leads to the next step…
Step 2
Write down this formula and start filling in the blanks customizing it to your business.
Secret Elevator Pitch Formula – I am in the _____________ (XYZ business), and I help _______________ (specific market) _______________________________ (insert most compelling benefit that encompasses what you do that would be valuable for the person on the receiving end of this statement).
If You Sell A Physical Product – I am in the _____________ (XYZ business), and I created a product for __________ (specific market) that (helps/teaches/etc.) people ____________________________ (insert the most compelling benefit that makes people want to learn more about your product)
Example – (For Product) – I am in the toy business, and I created a product for children that effectively teaches them their ABC's in less than 5 minutes without any work on the parents part no matter what age the child is.
One thing you want to make sure is that you want this to be as compelling as possible, so always place yourself on the receiving end of this statement as your market, and if it doesn't make you curious to ask the person who says it to you more questions…keep working…you will get it…it will just take time!
Exercise (This is what I did for myself)
Variation #1 (Person) – I am in the marketing business, and I help entrepreneurs increase the size of their e-mail list while also helping them make more sales on autopilot with less effort.
Variation #2 (Person) – I am in the marketing business, and I help entrepreneurs increase the traffic through their website using free methods that helps them generate more leads and sales on autopilot.
Variation #3 (My Current Pitch) – I am in the marketing business, and I help entrepreneurs increase their sales without requiring them to increase the size of their marketing budget.
Step 3
Anticipate the various questions someone will ask you after hearing your pitch (write them down), and be ready to have answers for them…that makes them ask more questions…leading to a meeting or phone call to follow up
Exercise (This is what I did for myself)

Q1: How do you do this?
A1: I first examine all of the marketing that the client is doing, and then find the holes in all of their marketing processes. Once I thoroughly look at every marketing asset they are using, and what they are exactly doing, I provide the recommendations and implementation necessary that will help them achieve the results that they are wanting to create…which more often than not is increasing their sales without increasing their budget. Most of the time clients are doing a lot of things right, but there are crucial parts to their marketing processes that need to be improved, or just plain revamped altogether to generate the best result. I help them with that and marry their entire process together so it runs seamlessly and more importantly gets results.
Q2: Who have you worked with, and what specific results did you create?
A2: I have worked with a manufacturer who sells direct through their website and within the retail channel, and helped them increase their direct to consumer sales through their website by 25%. I've worked with a celebrity nutritionist and created a lead generation and sales process that converted at 6.5% for her weight loss system. One last client that I worked with was a New York Times bestselling author, and the last I spoke with them their business is at the capacity where they can't take on anymore clients. I have also worked with clients where I have helped them generate 20,000-70,000 visitors a month through their website using only free methods.
(There are more questions that I have written down on my elevator pitch planning sheet, but these are the two core ones that I get most often).
As you can see, being prepared with your elevator pitch is half the battle. With answers like these, and 100% 3rd party verification to back everything up, more likely than not if I am in the right setting the person who is exposed to all of this will want to set a time for a call with me, or an in person meeting to talk about how I can help them.
Here are the takeaways for you…
Knowing how to frame and package yourself in your elevator pitch, and then anticipating what people are going to ask you after delivering your elevator pitch, is truly the key to mastering the use of your elevator speech.
Don't think your elevator pitch is just some insignificant thing that you can throw together at the last minute before a networking event. Be sure to prepare appropriately, and watch the results, leads and sales flow to you faster than white on rice
So take action now!
Start at the top of this blog post and read it from top to bottom…following the step by step process so that you can craft an effective elevator pitch of your own so you can start increasing your sales!