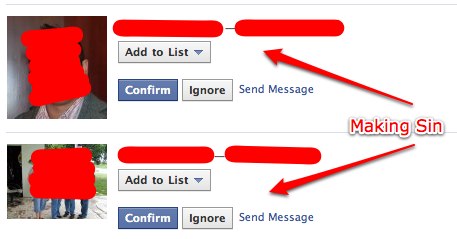 Each and every week I manage and sort through well over 100+ facebook friend requests at any given time. I don't say this to impress you, just to merely state a fact.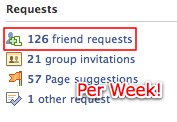 The sad part is… I ignore a lot of them, or add them to my "Random Never Pay Attention To Unless I am Incredibly Bored and Have Nothing Else To Do" list.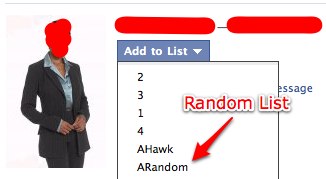 Even though this may seem somewhat "harsh," I do this for one simple, but very important reason…
Reason: Many of these individuals sending me a friend request don't put a personalized message in their request. They think that by merely sending me a request I will blindly accept it, and if I do accept it, they think that I will actually pay attention to everything they post.
Ha Ha Ha…No!
When I put them into my "ARandom" list, I rarely if ever pay attention to them, and the only reason I would remotely pay attention to them is if they pay attention to me.
If they do come out of the wood work by commenting on my status updates and posts, I do take notice and will add them to one of my lists that I pay more attention to throughout the week.
I simply don't have time for people who aren't willing to make the extra effort to write something in the friend request because they were "in a rush" or "didn't have time."
If you have made this mistake when sending friend requests you are not alone. Out of the 100+ requests I get each and every week I may only get 1 or 2 personal messages added to the plethora of friend requests I have to process.
So if you like following the herd, and are satisfied with the results you are getting, continue to make this sin. It doesn't bother me!
If you are making this sin, and want to make a positive change for you and your business, I would highly recommend that you change this behavior IMMEDIATELY!
And in changing that behavior…
Be sure to also add this blog to your RSS reader, or subscribe by e-mail so you don't miss out on my future posts as outlined below…that will help you tremendously
Future Post #1: What To Say In Your Personal Message When Sending A Facebook Friend Request
Future Post #2: The Exact Reasons Why You Should Put a Personalized Message in Each Facebook Friend Request You Send
I look forward to sharing this powerful information with you that will transform the way you leverage facebook as the powerful networking platform that it is.
——————————————————————————————————-
The Bottom Line: If you aren't putting a personal message in each friend request you send, you are leaving a ton of money on the table and missing out on so much opportunity.
——————————————————————————————————-